Possible collaboration
Laboratory is open for collaboration at various levels and areas:
joint scientific projects

joint experiments and publications
exchange of students
organization of joint seminars
If you are interested in collaboration with us, feel free to
contact us
!
Lars Carlsen, D.Sc., Director, Awareness Center, Denmark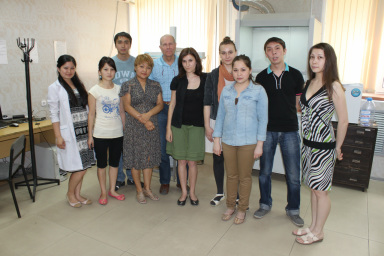 Collaboration with
Dr. Lars Carlsen
started in 2000 when he agreed to become a foreign collaborator for the first ISTC project on rocket fuel resuduals in Kazakhstan. Since that time, Lars Carlsen was collaborator of two ISTC projects on ecology of rocket space activity and more than ten times visited our Laboratory with his courses of lectures, for monitoring of ISTC projects and participating in workshops. Lars Carlsen is an expert in areas of environmental chemistry and chemical modelling.
Lars Carlsen co-supervised Ph.D. project of Yerbolat Sailaukhanuly on distribution of obsolete pesticides in Almaty oblast.
We have more than 10 joint publications in international and local journals.
---
Jacek Koziel, Ph.D., Associate Professor, Iowa State University, USA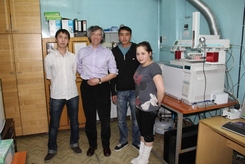 Successful collaboration with
Dr. Jacek Koziel
started in March 2009 when Dr. Bulat Kenessov worked together with him in Wageningen University.
Jacek is a leading scientist in the area of air sampling and analysis, solid phase microextraction and odor characterization.
Dr. Jacek Koziel visited our Laboratory 3 times with 40-hours courses.
He accepts young students for training in his Atmospheric air quality laboratory in Iowa State University, Ames, Iowa, USA. Dr. Bulat Kenessov, Yerbolat Sailaukhanuly, Madi Abilev, Nassiba Baimatova and Mereke Alimzhanova worked in his lab. Dr. Jacek Koziel is a foreign supervisor of Ph.D. projects of Mereke Alimzhanova, Nassiba Baimatova, Saltanat Yegemova and Dina Orazbayeva. We have 5 joint publications in international journals.
---
Tomasz Dymerski, Ph.D., Gdansk University of Technology, Poland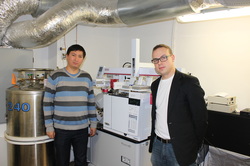 Bulat Kenessov worked for 3 weeks in the lab of Dr. Dymerski in Gdansk University of Technology under his Erasmus Mundus scholarship. Laboratory of Dr. Dymerski is equipped with LECO Pegasus 4D GCxGC-TOFMS (comprehensive two-dimensional gas chromatograph with time-of-flight mass spectrometer). A research article based on obtained results is under preparation
.
---
SUEC "Arktika" of the Northern (Arctic) Federal University, Arkhangelsk, Russia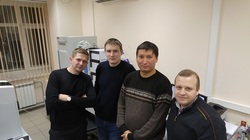 "Ecology of Biosphere" laboratory collabhttp://narfu.ru/en/research/arktika/orates with Shared Use of Equipment Center "Arktika" since 2016. Collaboration is aimed at the study and solution of environmental problems caused by space rocket launches in Kazakhstan and Russia.
In February, 2016, Dr. kenessov visited "Arktika" center and discussed the collaboration. the collaboration agreement between KazNU and NARFU is now under preparation. It will cover exchange of students and staff.
---
Boguslaw Buszewski, Ph.D., Professor, Nicolaus Copernicus University, Poland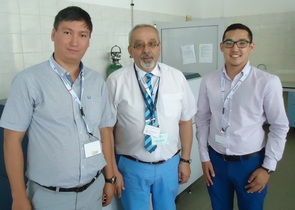 "Ecology of Biosphere" laboratory collaborates with the Department of Environmental Chemistry and Bioanalytics of the Nicolaus Copernicus University since 2015. Under collaboration, three internships of the laboratory staff in the Nicolaus Copernicus University were organized. In July, 2016, Dr. Kenessov met Professor Buszewski at the ExTech&ISSS-2016 conference organized by
the
Nicolaus Copernicus University.
---
Tim Grotenhuis, Ph.D., Assoc. Professor, Wageningen University, Netherlands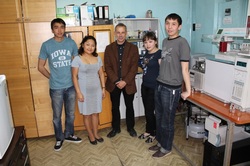 Collaboration with
Dr. Tim Grotenhuis
started in 2005 when he visited al-Farabi Kazakh National University.
Tim is a leading scientist in the area of soil chemistry and remediation.
Dr. Tim Grotenhuis visits our Laboratory with 40-hours courses once a year.
In March 2009, Tim supported 1-month visit of Dr. Bulat Kenessov to Wageningen University where they and Dr. Jacek Koziel worked on development of a method for screening transformation products of 1,1-dimethylhydrazine in soils.
We have 1 joint publications in international journal.
---